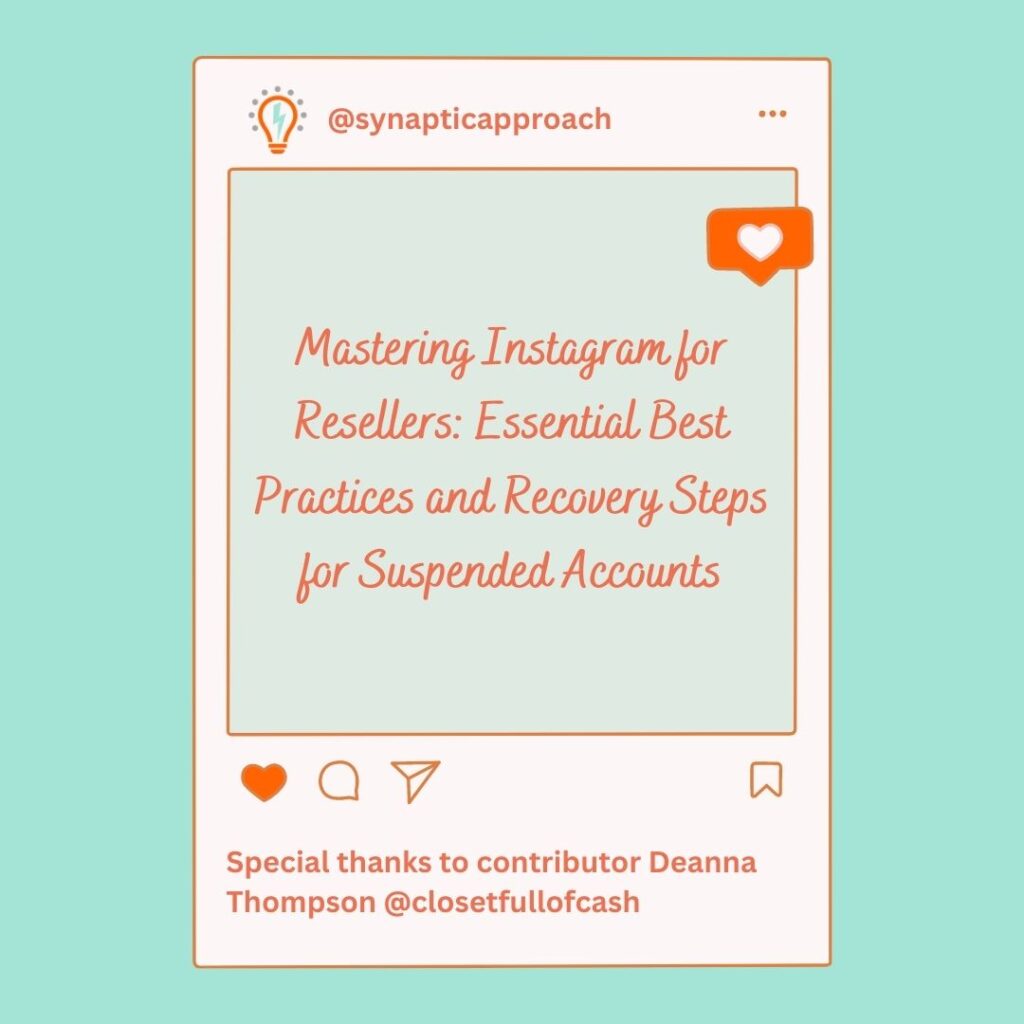 Losing access to an Instagram account can have an enormous impact on your resale business. That's why it's important to adhere to Instagram's terms and conditions and proactively follow best practices for resellers. In this article, we'll share those best practices as well as the proper steps to recover a lost Instagram account.
Prevent Your Content from Being Flagged by Original Brands
It's important to understand that many reported violations don't originate within the Meta algorithm but rather from the original brands themselves. Luxury brands invest heavily in anti-counterfeit measures and rightfully protect their brands which includes scraping social media channels for fakes. If their systems report your content as infringing on their intellectual property, it could trigger the takedown when they report your profile to Instagram. 
Paid Measures to Help Take Advantage of META's Support Team
While it may feel like META is out to get you, in reality, they invest heavily in being a resource to legitimate small businesses. Two ways that you can tap into that are to invest in the following steps within the META platform, which will give you quicker access to their support team: 
Apply to subscribe (for about $15 monthly) to Meta Verified, a Meta subscription bundle to help you establish your presence on Instagram, Facebook, and Threads, giving you access to a support team. 
Establish a Meta Business account on their ads platform.  You'll have personalized access to their business support team by running ads at a minimal monthly spend. 
Strict Adherence to Instagram's Terms and Conditions is Crucial
It's essential to be very careful to follow the platform's terms and conditions to the letter. Here are a few that are commonly overlooked: 
Using automation tools excessively for liking/commenting on posts or following/unfollowing users.
Purchasing likes and false followers.
Selling or purchasing accounts.
Creating multiple accounts.
Posting inappropriate content or infringing on others' work.
Usage by those under 13 years old (make sure your profile age is accurate).
Promoting or selling illegal products or services.
Utilizing invalid or banned hashtags.
Excessive commenting, particularly for new accounts.
Repetitive comments or messages.
Using violent or offensive language.
Best Practices for Resellers:  
Never TAG the brand in your posts. Unfortunately, using the brand's name and product descriptions may also flag your post. 
Avoid words like 'fake,' 'dupe,' 'steal,' 'swipe,' 'counterfeit', 'authentic', or other words or phrases that may raise a red flag and inaccurately indicate that you're dealing in counterfeit goods. 
Audio should either be original to you or added via the platform. Be aware of this if you have music, television, or other noise in the background. 
Don't share similar or "inspired" items resembling designer items, even if they aren't exact copies.
Be wary of being flagged for non-human behavior if you repeat actions like unfollowing frequently in a short period, have 'bursts' of activity, or post-then-delete content. 
Avoid using third-party apps for logging in and managing your account actions, as it's against Instagram's rules.
Focus on genuine interactions and building relationships rather than just increasing likes, follows, or comments. 
Collaborate with other users and engage meaningfully with them by reading their captions and providing thoughtful comments.
Make sure that any member of your team who has access to your channels is aware of these guidelines and follows them closely. 
How to Recover a Deactivated Instagram Account
In many cases, Instagram will notify you of the deactivation with a prompt to verify your identity, in which case you should follow those prompts. If you did not see such a prompt, you can click here to verify your identity with Instagram. 
The next step is to submit a ticket using this form in the Instagram Help Center. You can also try accessing the Meta Business Support Center. 
Navigating Instagram as a reseller requires strategic planning, respect for platform rules, and engagement beyond likes and follows. Always bear in mind that your Instagram account is essentially borrowed space and could be revoked without notice. Therefore, don't put all your eggs in one basket. Diversify your online presence by strengthening your email lists, increasing website traffic, and fostering real-world relationships and collaborations. By adopting these practices, you can successfully use Instagram as a tool to enhance your reselling business while also safeguarding your brand from unexpected setbacks.
SPECIAL THANKS TO Contributor Deanna Thompson, Co-Founder of Authentication Institute of America.