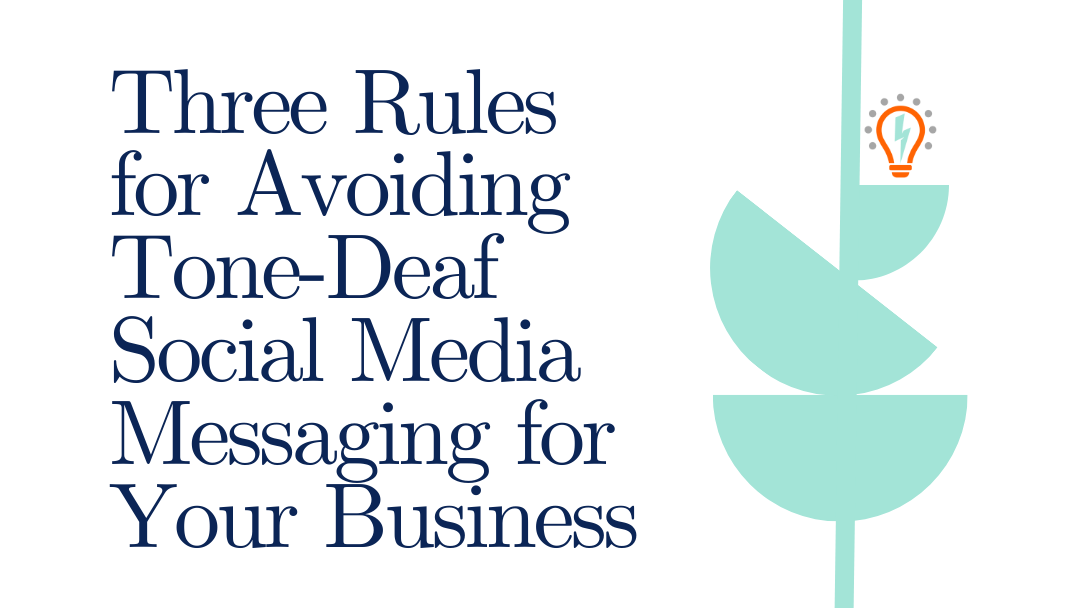 The news cycle is spinning faster than ever. Emotions and sensitivities are high, and that's why it's important that brands avoid marketing messages that put them in a negative spotlight. We've all seen examples of marketing and advertising from companies that shot themselves in the foot while trying to make themselves a part of the cultural conversation. If it can happen to brands like Target and Budweiser, previously considered rockstars of marketing and messaging, then it can happen to any business. They mangled their brands and ended up causing more, not less, grief for the groups they were trying to support, spiraling into full-blown business crises. It's a sobering reminder that not all publicity is good publicity. This article will help you better understand what types of messages are considered tone-deaf, potential negative effects, and ways to avoid them. 
Negative Outcomes of Tone-Deaf Marketing
Tone-deaf marketing messages show insensitivity or disregard for audience sentiments, often appearing out of touch with current societal contexts or consumer experiences. It does more than just ruffle feathers; it can jolt the customer's journey and tarnish a brand's image with outcomes including:
Offending and alienating customers: When the advertising campaigns are insensitive or out of touch with our audience's values and beliefs, there is a risk of offending or alienating the audience, leading to negative backlash on social media, boycotts, and even legal issues.
Damage to brand reputation: In today's digital age, insensitive posts or ads can quickly go viral for all the wrong reasons. This can lead to widespread criticism and backlash, damaging a brand's reputation. Negative perception and loss of trust can be hard to recover from, affecting the brand's credibility and success in the long run.
Loss of customers and revenue: Tone-deaf marketing can result in loss of customers and revenue, impacting our bottom line. In a competitive market, losing customers can have serious financial consequences.
How to Avoid Tone-Deaf Social Media Posts
There's no real playbook for the perfect way to plan your marketing during what feels like a chaotic media landscape, but following these three rules will help you move forward with your marketing and avoid potential pitfalls:
Be Attuned and Responsive to the Current Climate:
Regularly review scheduled content: In a world where societal moods and sensitivities shift rapidly, previously scheduled posts can suddenly seem out of touch. Periodically review and adjust your upcoming content to align with current events and public sentiment. For example, an innocent post using the word "Boom!" may be harmless one day, but in poor taste if its timing corresponds with a bombing or explosion.
Stay informed about current issues: Remember, your audience is diverse and sees local and global events through different eyes than you. Consider how your content communicates in contexts outside of your own.
Careful when hopping onto trending topics: While participating in trending conversations can increase your brand's visibility, it can lead to public backlash. One example was when a pizza company used the hashtag #whyIstayed in a comical post without realizing that the trend was actually a result of a campaign against domestic violence. When in doubt, sit it out and let the trends pass you by.
Listen, Learn, and Empathize:
Stay true to your core: Remember, your audience relies on your experience and expertise in your field. Consider limiting your insights to issues or topics that fall into your core business wheelhouse instead of pontificating on matters which you have more opinions than actionable insight and value.
Engage with your audience and peers: Understanding your audience's perspectives and whether or not they're hungry for your opinions or views on a particular topic. Monitor social media discussions, comments on relevant topics, and general public sentiment to gauge the mood and tailor your messages accordingly.
Lead with empathy: Messaging that acknowledges only one view or segment of experiences can alienate others facing different hardships that you may not have even previously considered.
Stick to Your Business Goals:
Prioritize people over profit: Viewing customers solely as revenue sources leads to communication that feels exploitative or insensitive. Instead, focus on understanding and addressing the problems that your product or services solve and which of their needs and concerns your business genuinely serves. Anything else is superfluous.
Communicate thoughtfully: Nowadays, much of our writing is aimed at algorithms. But it's still important to use people-first language and messaging. Whenever possible, be guided by the preferences of the communities you're referring to (e.g., "disabled person" vs. "person with a disability").
Exercise caution with humor: While humor can make your brand more relatable and memorable, it's subjective and can backfire if not handled sensitively, especially when it involves sensitive topics or pokes fun at individuals or groups.
Be culturally sensitive: Before publishing content, consider its social and cultural implications. Efforts at inclusivity can backfire if they rely on stereotypes or fail to respect cultural nuances.
Support causes meaningfully: Jumping on a charitable bandwagon, even if well-intended, can make your brand seem to be taking advantage of a negative news situation. Instead, your brand should have a year-round plan to advocate for causes that align with your brand's values and where you can make a genuine impact that will resonate with your audience rather than opportunistically jumping on every trending issue.
Maintain brand integrity: Protect your brand's reputation by avoiding impulsive reactions or statements on social media. Ensure your content reflects your brand's core values and purpose.
Avoiding tone-deaf messaging is not about being overly cautious but about being empathetically attuned to your audience's current state of mind. It requires active listening, continuous learning, and a profound respect for the diverse experiences and perspectives of all individuals. By putting these principles into practice, businesses can foster more meaningful connections and build lasting trust with their audience.